Preserve owners and permissions on NTFS drives for Copy, Move commands, Maintain NTFS security permissions
Description of Preserve owners and permissions on NTFS option
Option to Preserve owners and permissions on NTFS drives
Include subdirectories
Robust error state reporting
Altap Salamander 4.0 - Download | Screenshots | Features
Preserve owners and permissions on NTFS Drives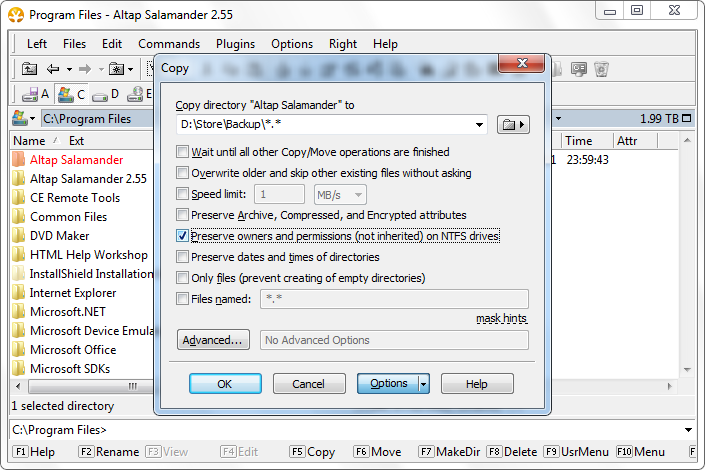 How to copy files including owners and permissions on NTFS drive?
Download and install Altap Salamander 4.0 File Manager.
Select desired files for Copy or Move operation.
From the menu Files choose the operation (Copy or Move).
Click the Options button and choose option Preserve owners and permissions on NTFS drives.
For more details see Copying Files and Directories in Altap Salamander Help.
Why choose Altap Salamander as file manager?
All-in-one solution.
Unified design and control.
Intuitive and effective interface.
Power user functionality, short learning curve.
Keyboard and mouse shortcuts for most commands.
High quality software with emphasis on error states.
Superior quality with emphasis on safety of your files during error states.
File manager Altap Salamander in a nutshell
Altap Salamander is a native Windows application with modern and clean design.
Using graphic instead of text mode brings easy to use and powerful user interface.
Well-established shortcuts from Norton Commander and Windows.
Drag&Drop support, mouse shortcuts for most frequent commands.
Handy support for clipboard: you can copy file name with full path on clipboard.
Quick search is really quick: just start typing the name of file you are looking for.
Advanced Select/Unselect commands including Save and Load Selection.
Operations are started on background; you needn't wait until operation is finished.
Thumbnails view mode for digital camera users, graphic designers, web masters, etc.
PictView viewer for more than 40 bitmap file formats.
Fast text and binary viewer with hexadecimal and ASCII modes. Large files over 4GB supported.
Support for Regular Expressions in viewers and Find. Wildcards for easy filenames selecting.
Database viewer for DBF and CSV files, Multimedia viewer for MP3, OGG or STM files.
Portable Executable viewer will say you all about EXE or DLL files.
With Internet Explorer viewer you can quickly display your HTML file.
Well-arranged Find dialog with many find options including searching for duplicates.
Make File List command allows you export files and directories listings to text file.
List of shared directories with option to stop sharing.
Changing file and directory names to lower, upper or mixed case.
Converting end of line (EOL) characters between Windows, MAC and UNIX.
Changing coding of text files (CP1250, CP852, KOI-8, Kamenicti, EBCDIC, etc.).
List of recently opened files and working directories for easier access.
Comparing directory trees by name, date, time, attributes, or by content.
Internal support for most major archives: ZIP, RAR, ARJ, LZH, LHA, LZS, 7-ZIP, TAR, TGZ, BZ, BZ2, RPM, CPIO, Z, PK3, JAR, and Microsoft CAB.
Possibility to make self-extracting archives with custom icons, texts and behavior.
Open CD or DVD ISO image files, browse all sessions, view and extract contained files.
Open and extract MIME/Base64 email messages. yEncode and BinHex decoder.
Open and browse Outlook Express DBX archives, save email attachments.
User friendly configuration. All options are accessible from dialog boxes or menu.
Open plugin architecture to enable third-party plugins and extensions.
Advanced file comparator for text and binary files will display differences.
Advanced batch renamer for easy renaming of your files and directories.
FTP Search for searching on FTP servers.
Registry editor for browsing, viewing, and editing of your Windows Registry.
Support for splitting and combining files.
WinSCP plugin based on famous SFTP and SCP client.
FTP client with clever non-blocking design allows postpone solving of errors.
Checksum plugin will calculate and verify CRC32 (SFV) and MD5 file checksums.
Files encryption and decryption using strong encryption algorithms: AES (Rijndael), Blowfish, and TripleDES in either ECB or CBC mode.
Open FAT 12, 16, or 32 disk image, browse directories and view or extract required files.
Undelete plugin for recovering deleted files from your FAT or NTFS partitions.
Windows Mobile plugin for accessing Pocket PC, Pocket PC Phone Edition, Smartphone, and Windows CE devices from Altap Salamander.
And much much more... download Altap Salamander 4.0 and try it yourself.